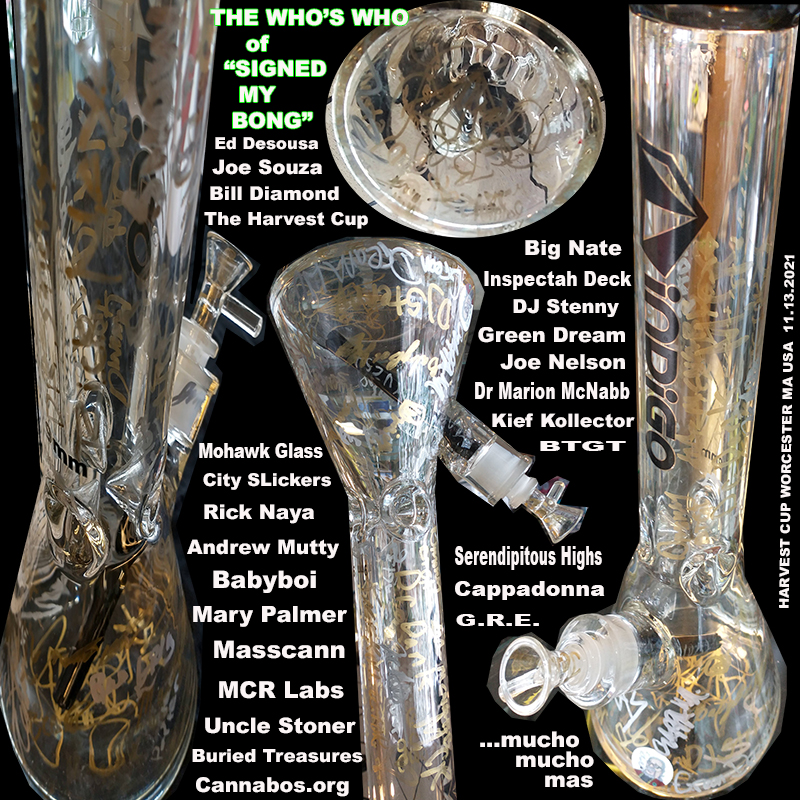 On the way to the recent Harvest Cup event https://www.youtube.com/embed/rxiqejdomVc?enablejsapi=0&rel=0&origin=https://hive.blog&start=0
in WU-Stah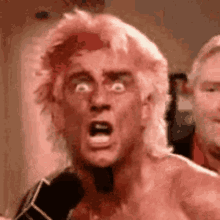 (Worcester, Massachusetts, USA)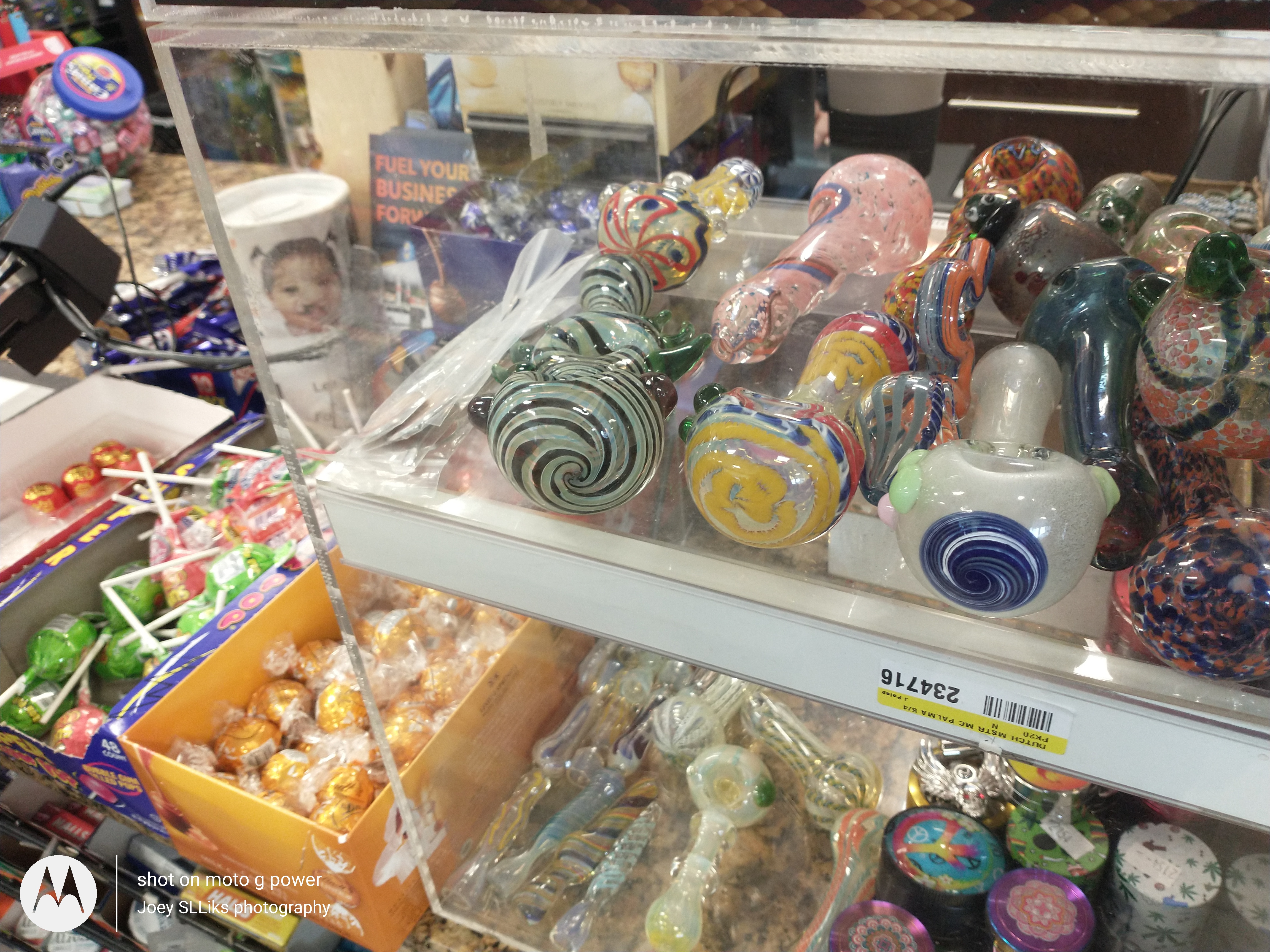 I had stopped at my local convenience store, and was surprised to see a very competitively priced glass water pipe (BONG) on the counter.
It used to be the case that selling "water pipes " in taxationistheft-achuetts was a little bit sketchy. You couldn't even say the word bong, and you had to be 21 with iD to even enter a shop, in most cases.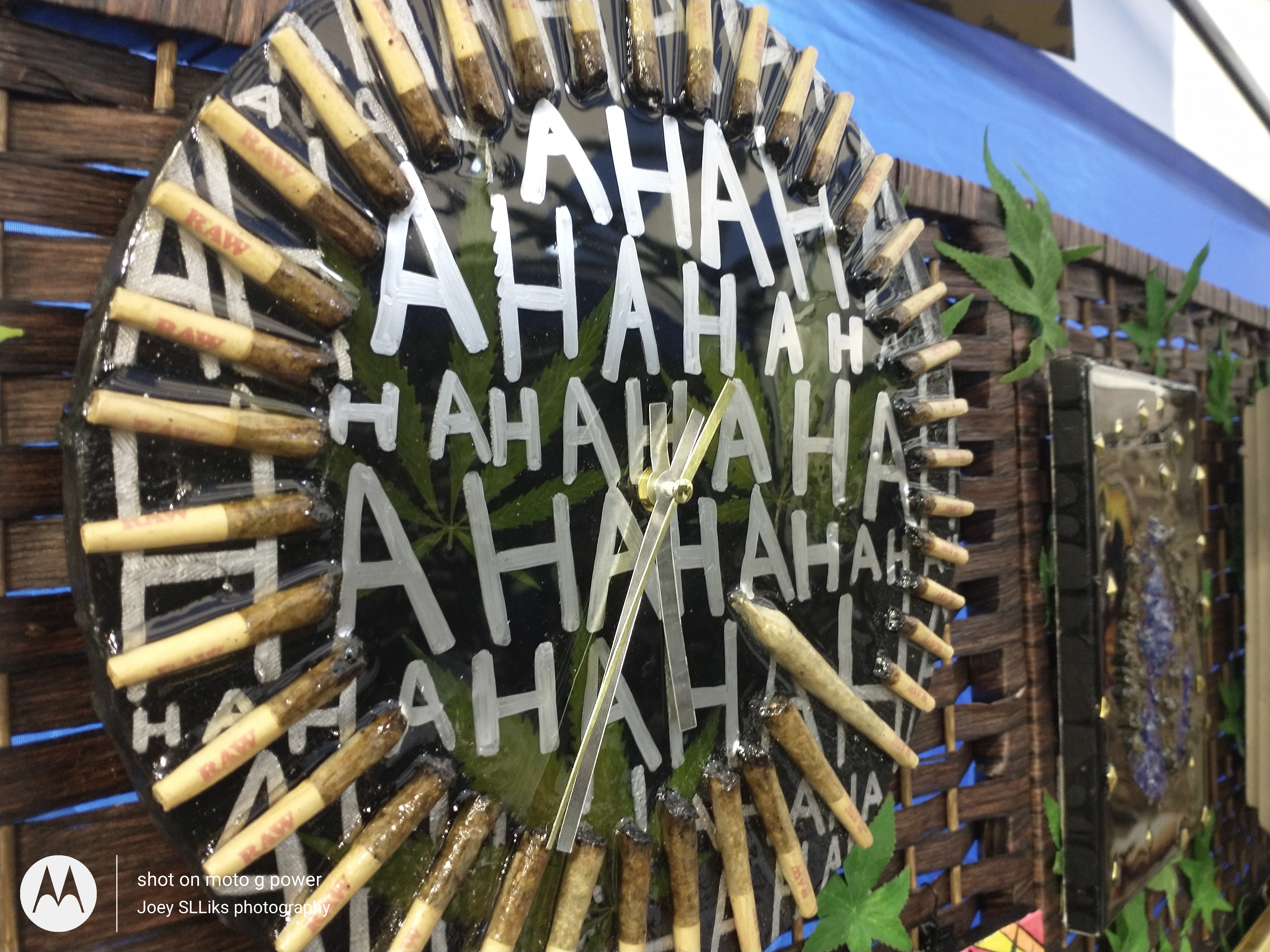 In those days, Providence, RI was a different story. The downtown area had several little shops that did in fact, make cannabis paraphernalia available, as was also the case with the legendary Headlines chain of head shops, in New England's misguided "Live Free of Weed", Granite State.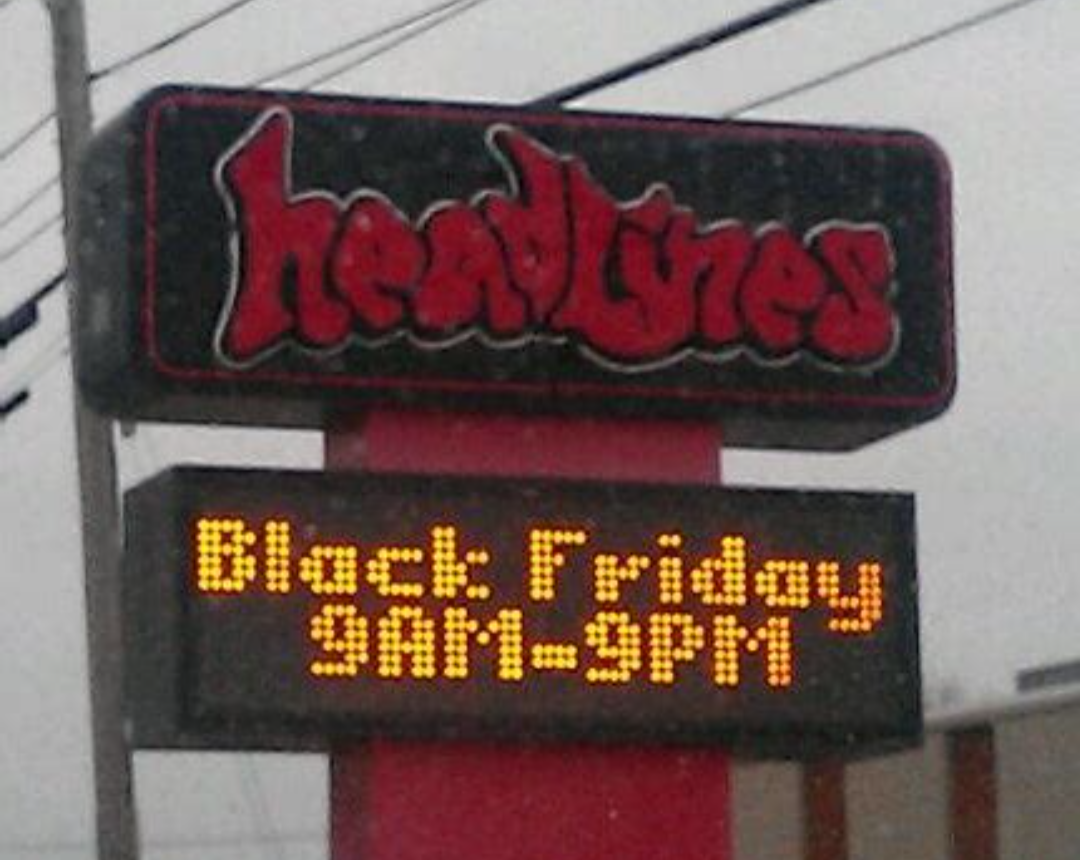 This was all pre-internet of course. In more modern times, high quality glass bongs cann be had, even from the many area gas station quickeez. Anyway, not one to judge, I immediately made the executive decision to get the fresh glass to go.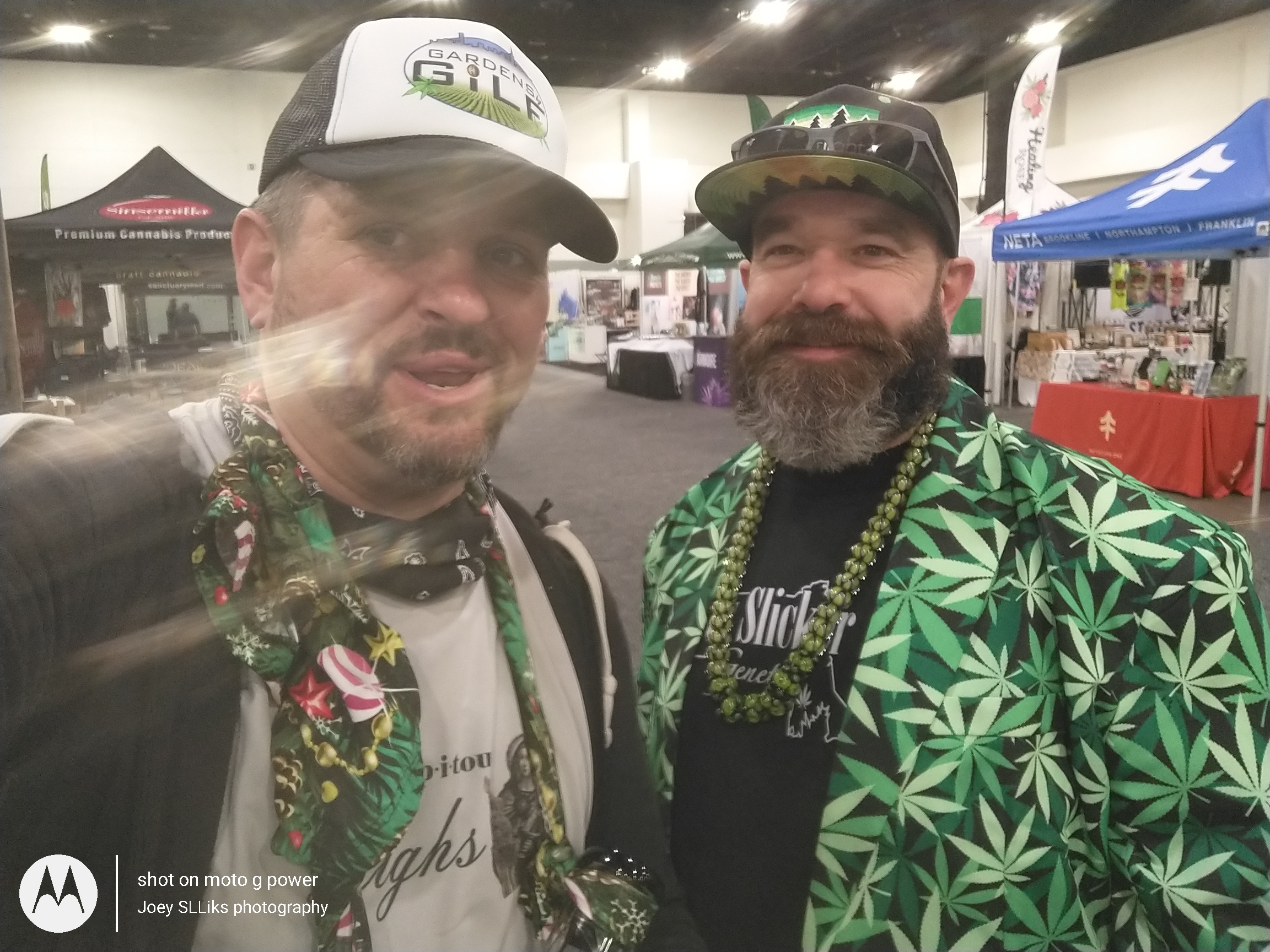 and with high hopes of scoring a few autographs from the many THC-lebrities, expected to be in attendance here at the DCU. I was even able to get a couple paint markers from the neighborhood pharmacy.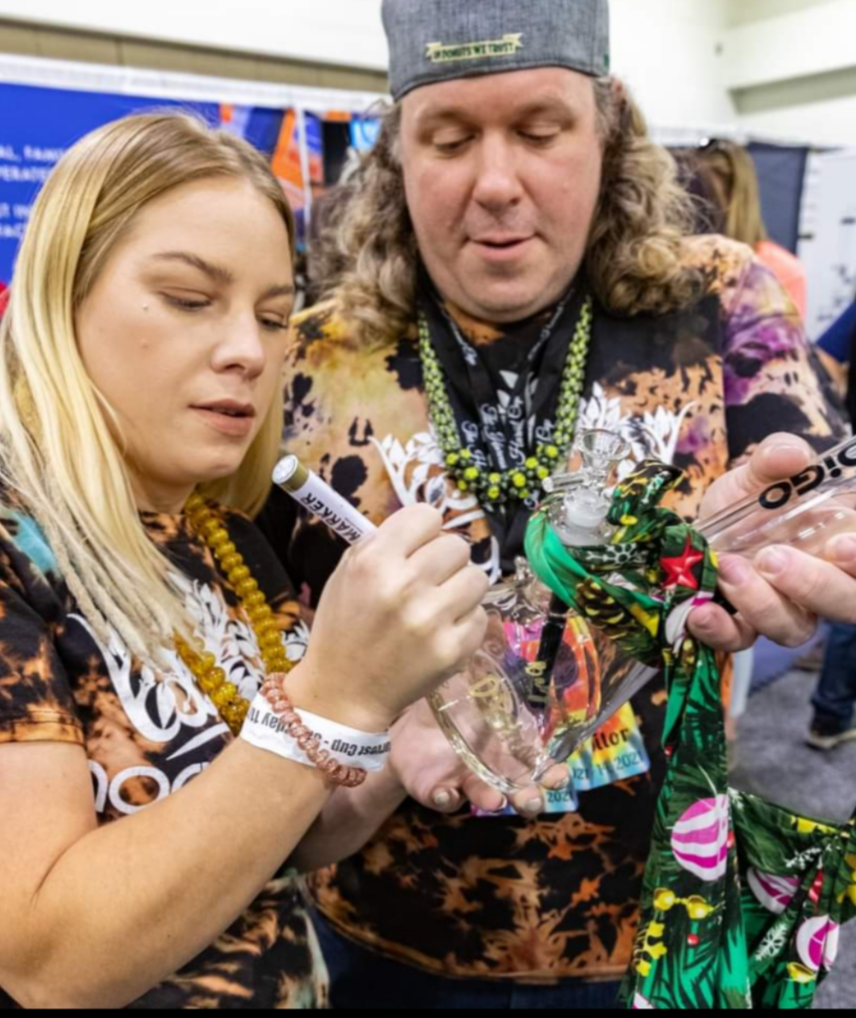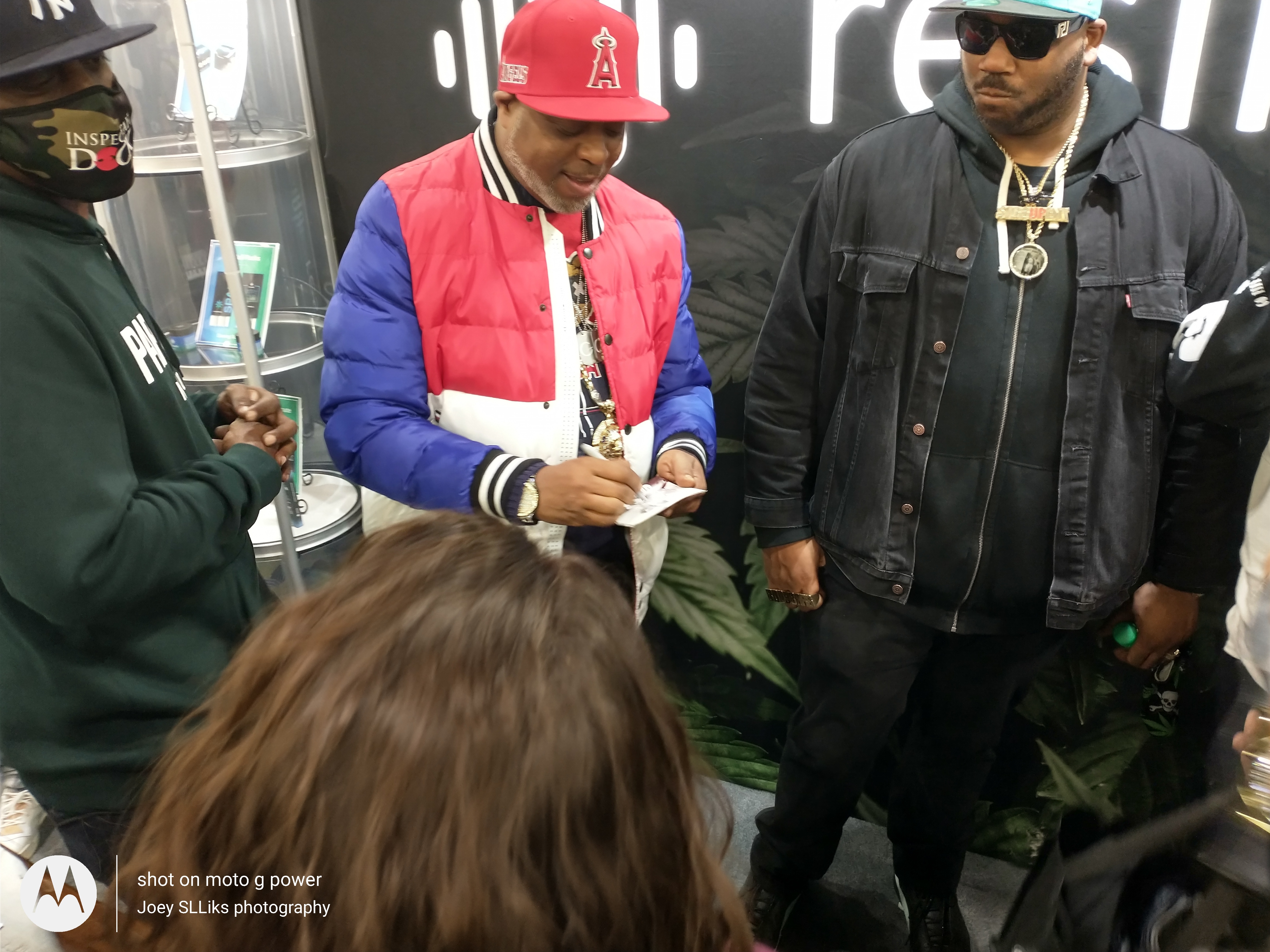 This is the 5th iteration of the cannabis competition where canntestants submit a sample of their crafted product, which is then judged on its overall quality.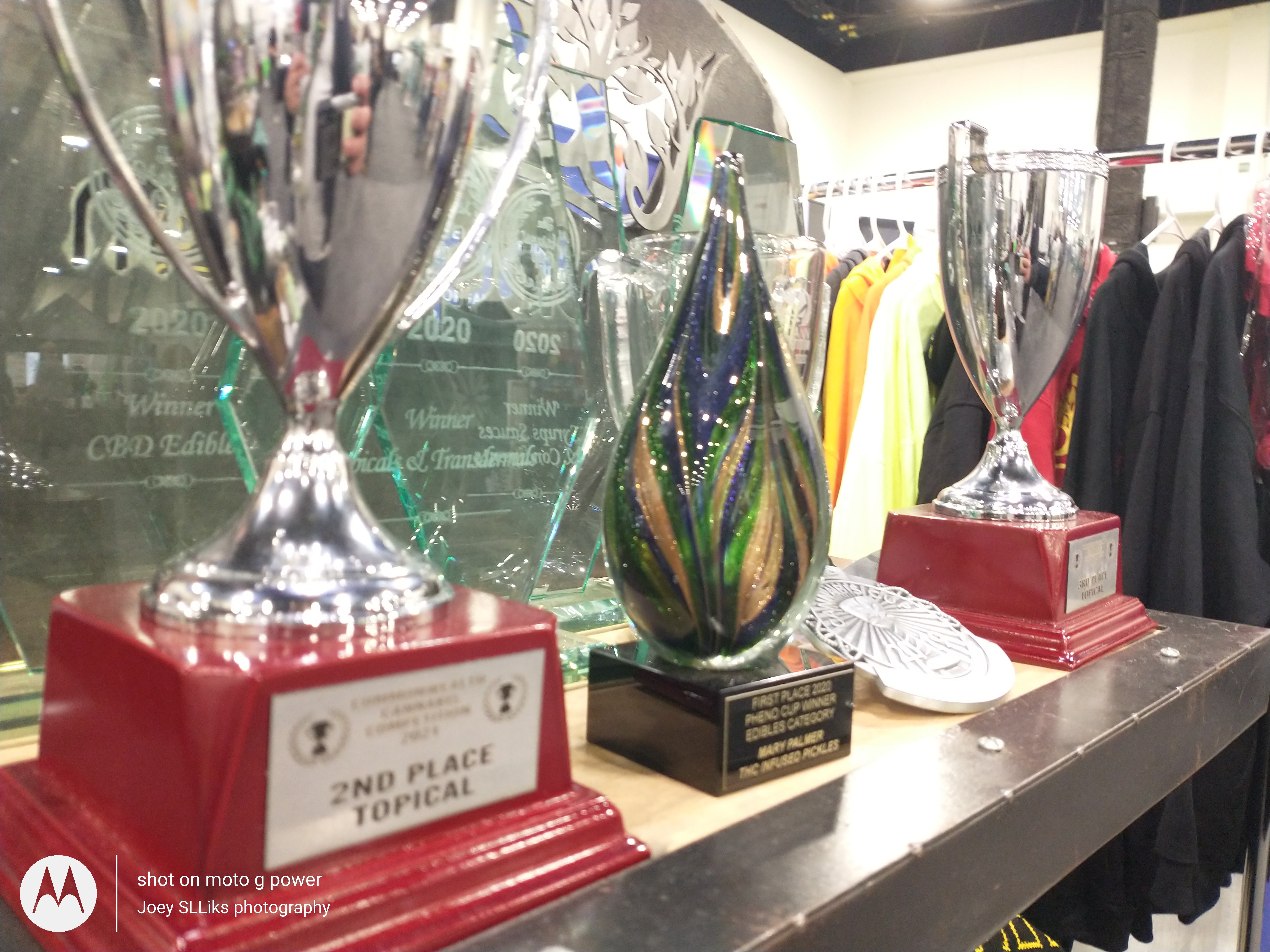 This year's categories and winners (Courtesy the Harvest Cup's IG page)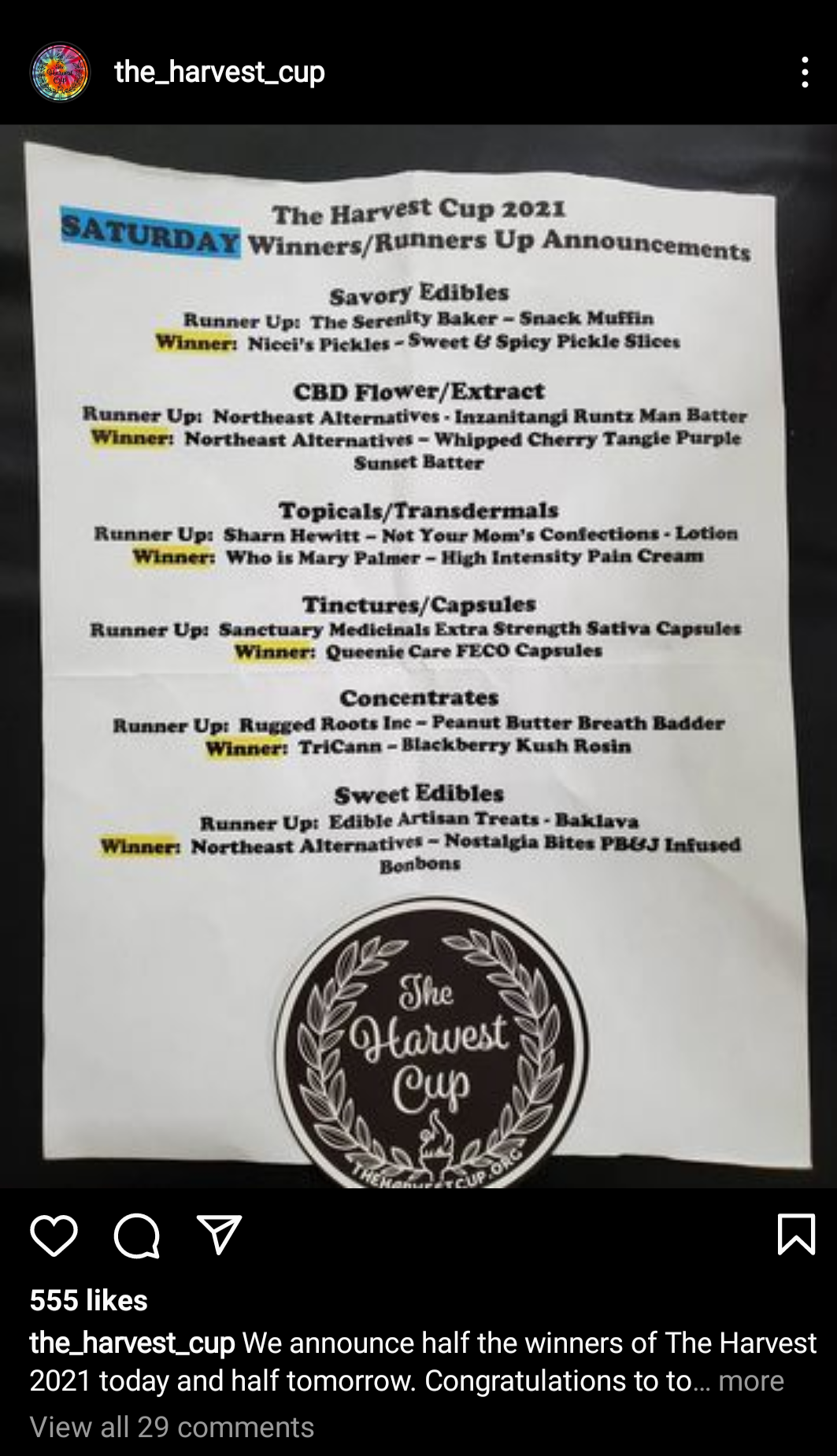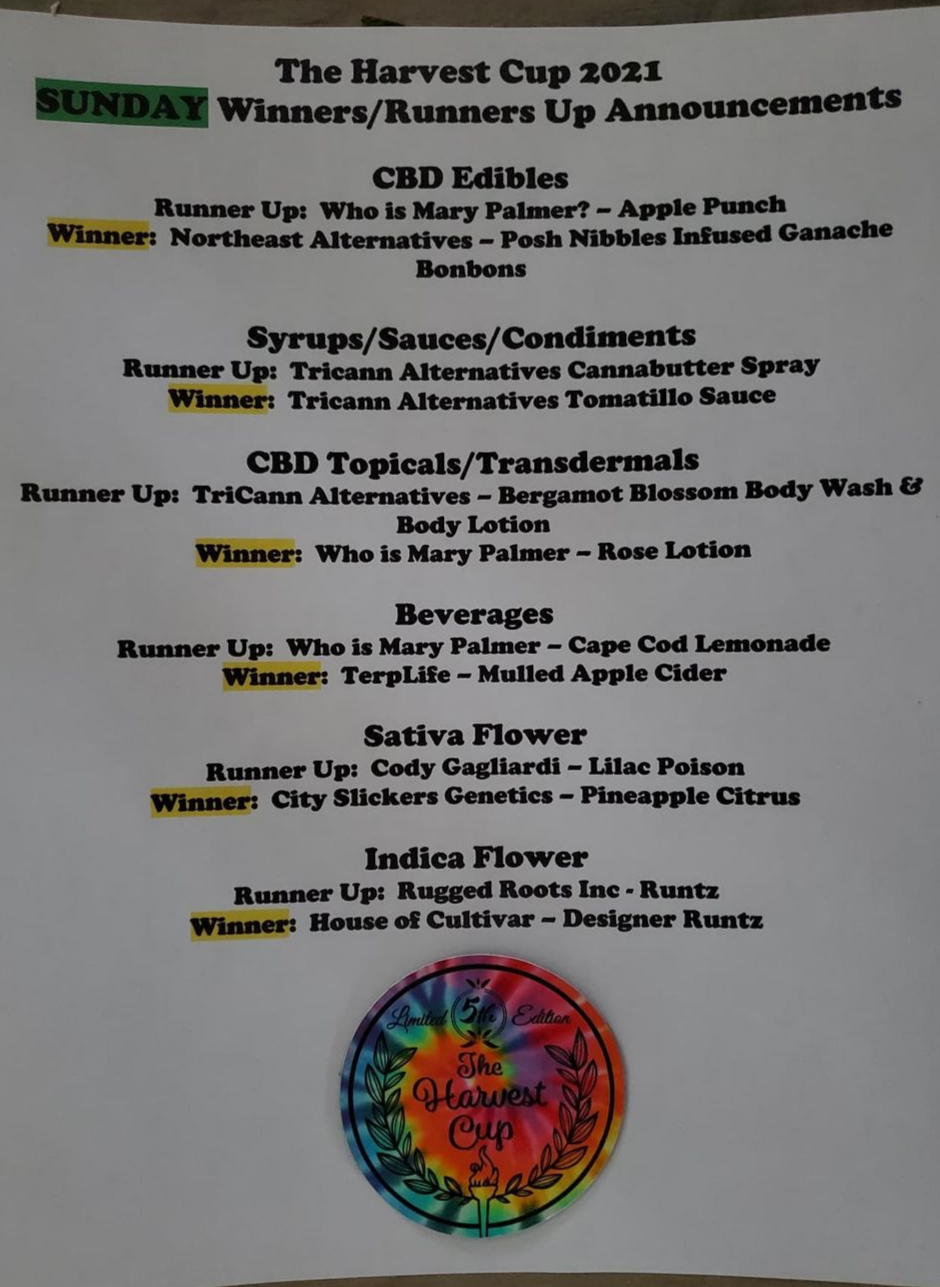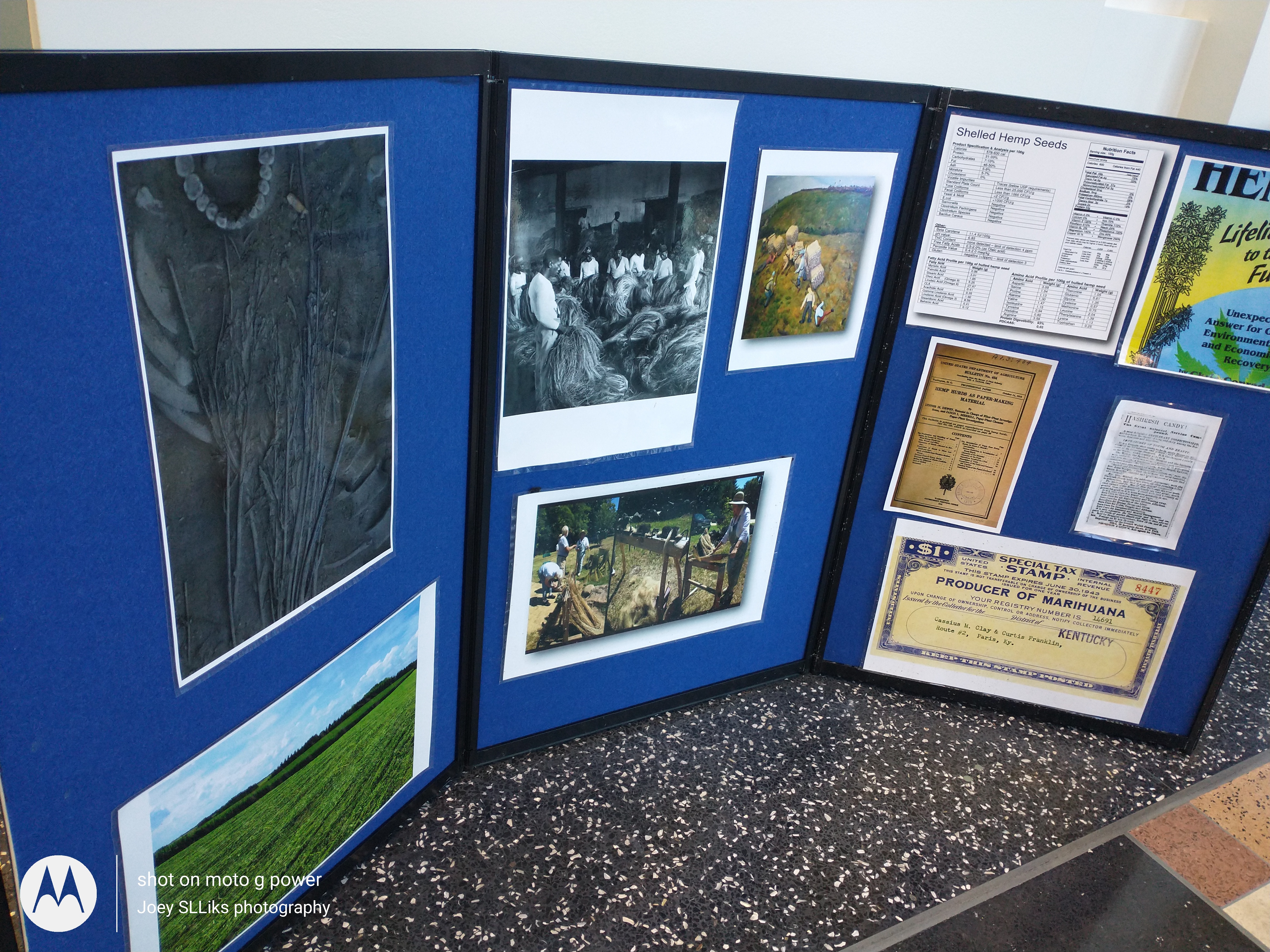 The Harvest cup also has hundreds of vendors with a number of different Cannabis related products.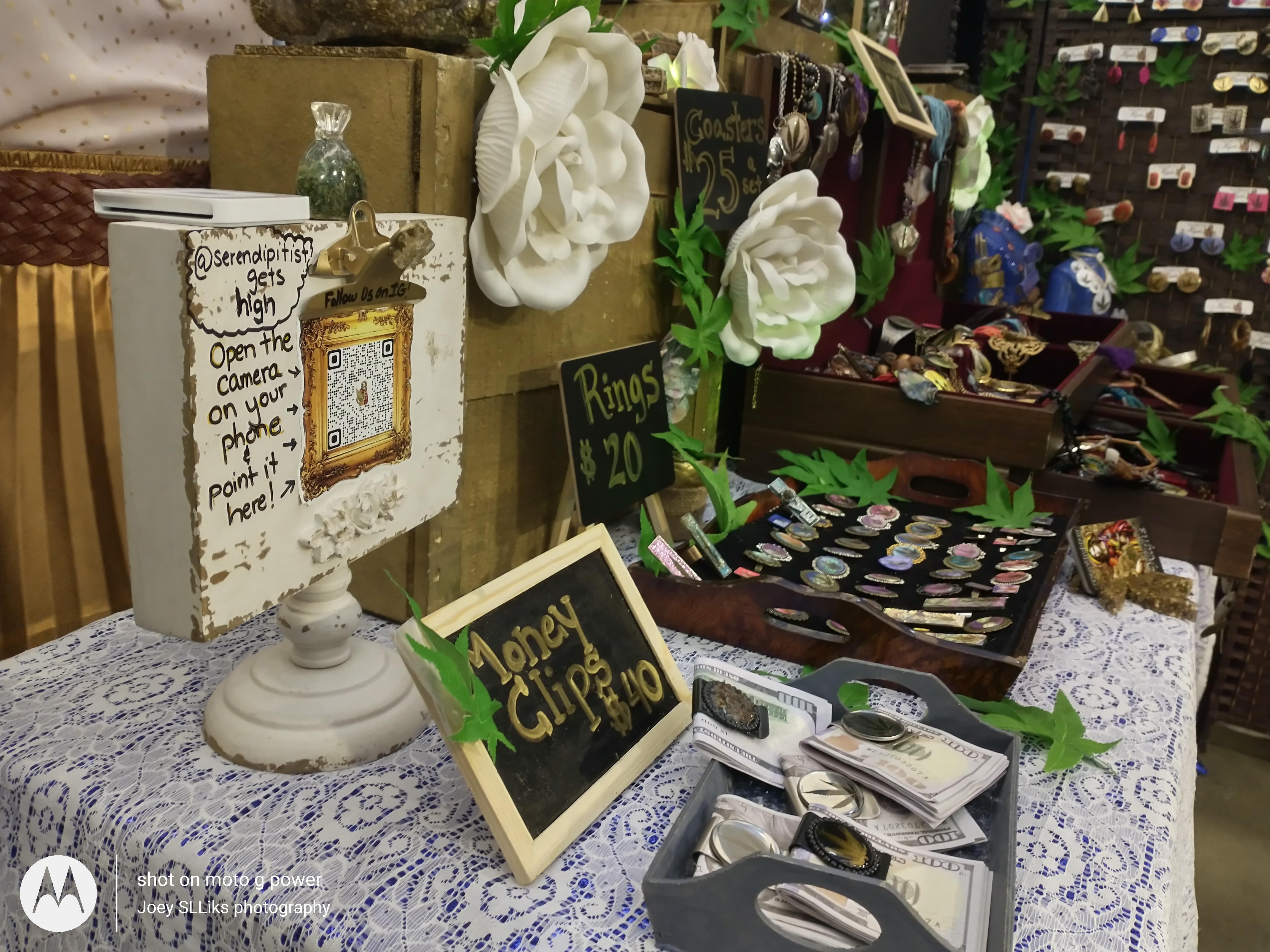 I planned on parking in the adjacent parking lot at the DCU Center, and enjoyed noticing that the entire garage was smelling pretty dank. Even up on the al fresco inspired top deck, where I had met some Virginians, who were catching a view of Woo City from the roof top. They were nice enough to confirm some long running rumors. They even signed the rig.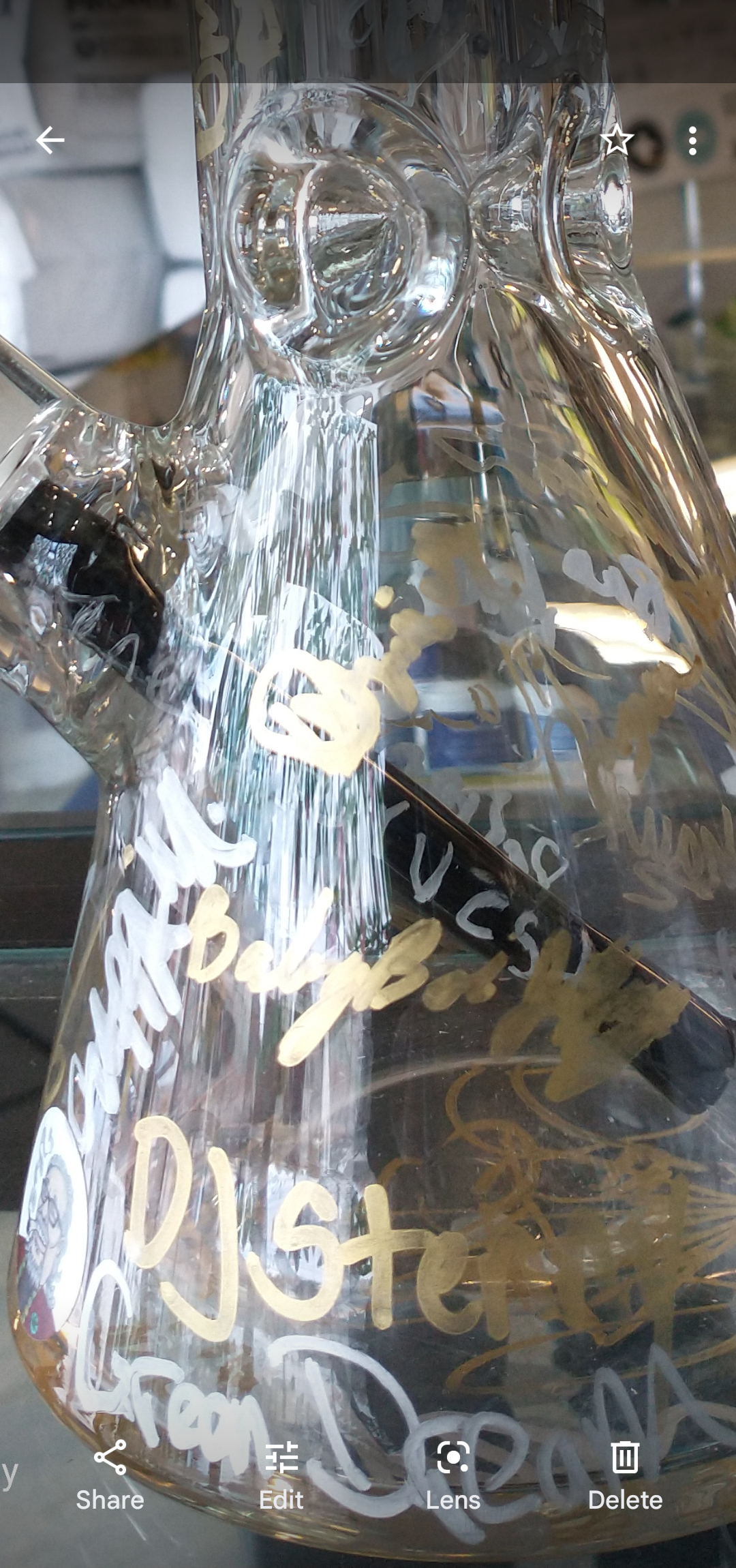 After fish bowling the garage stairwell, we finally entered the DCU and I was immediately able to score an autograph from (Fraggle Rock's) Bill Diamond, and the guys from The Toking Dead.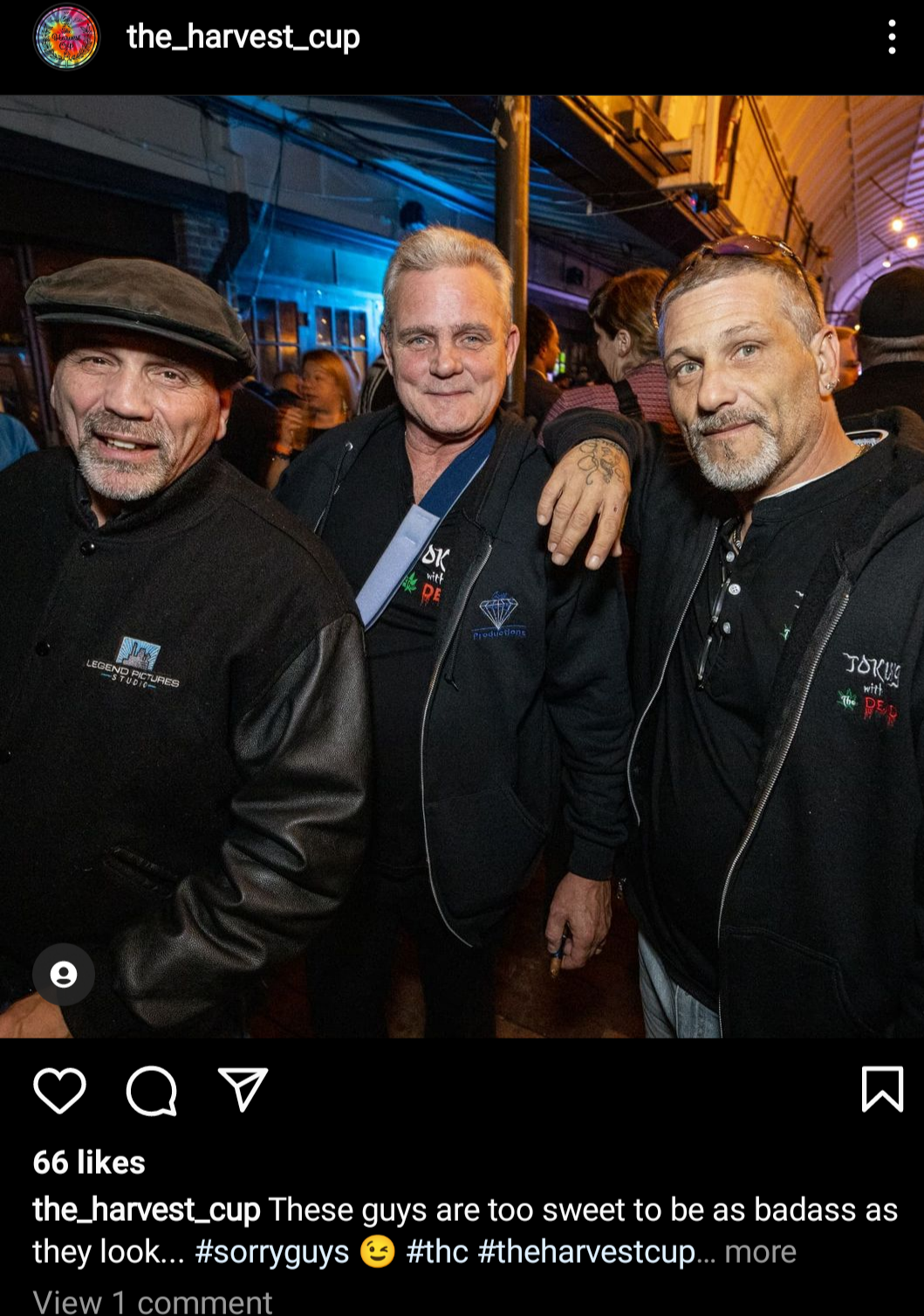 Bill was kind enough to bestow upon the chalice his signature diamond, as it were, right on the bottom.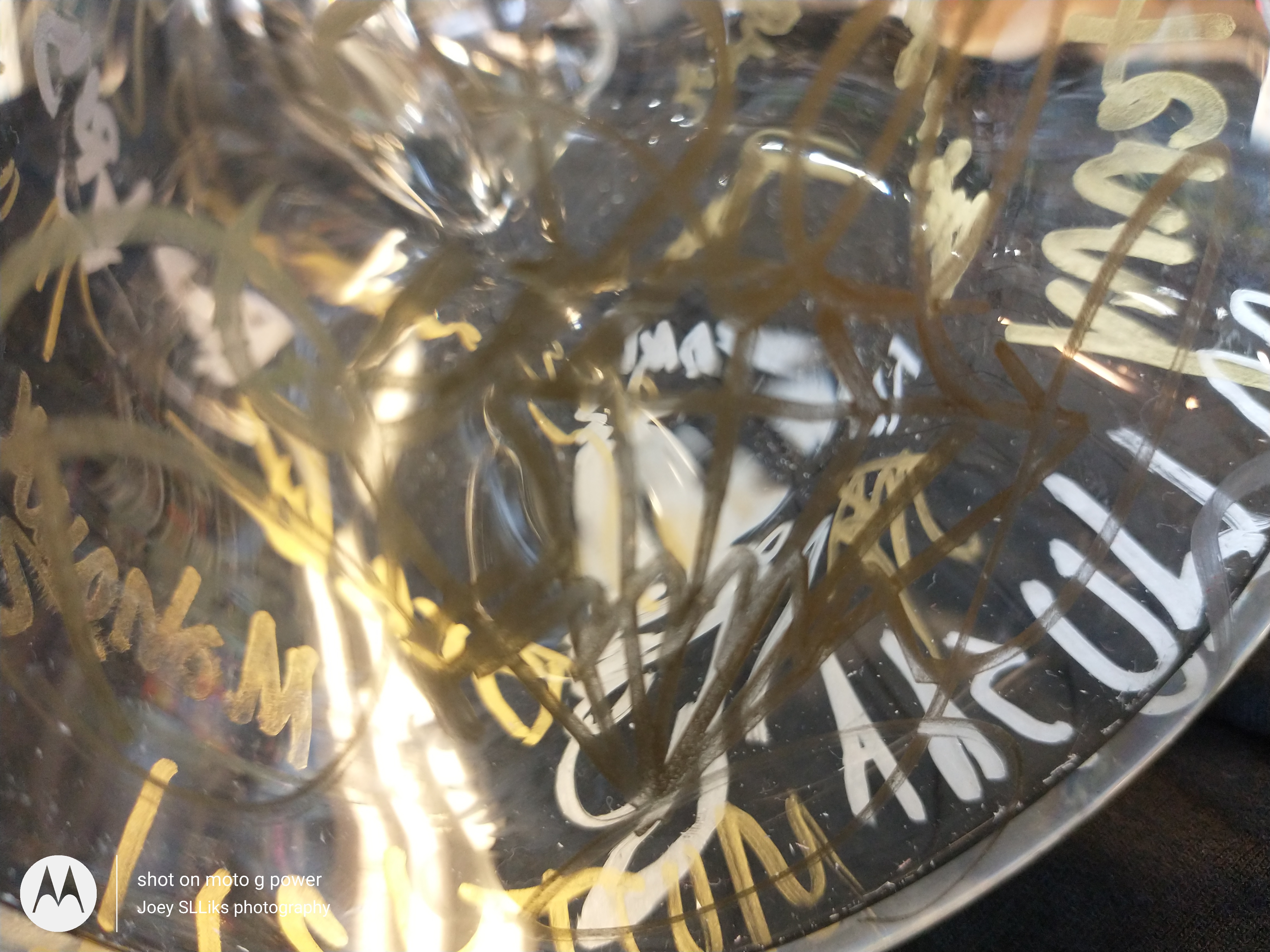 The late Red Blazer has been immortalized on these little circle stickers, which were making their way around the DCU. I got one on the bong right away.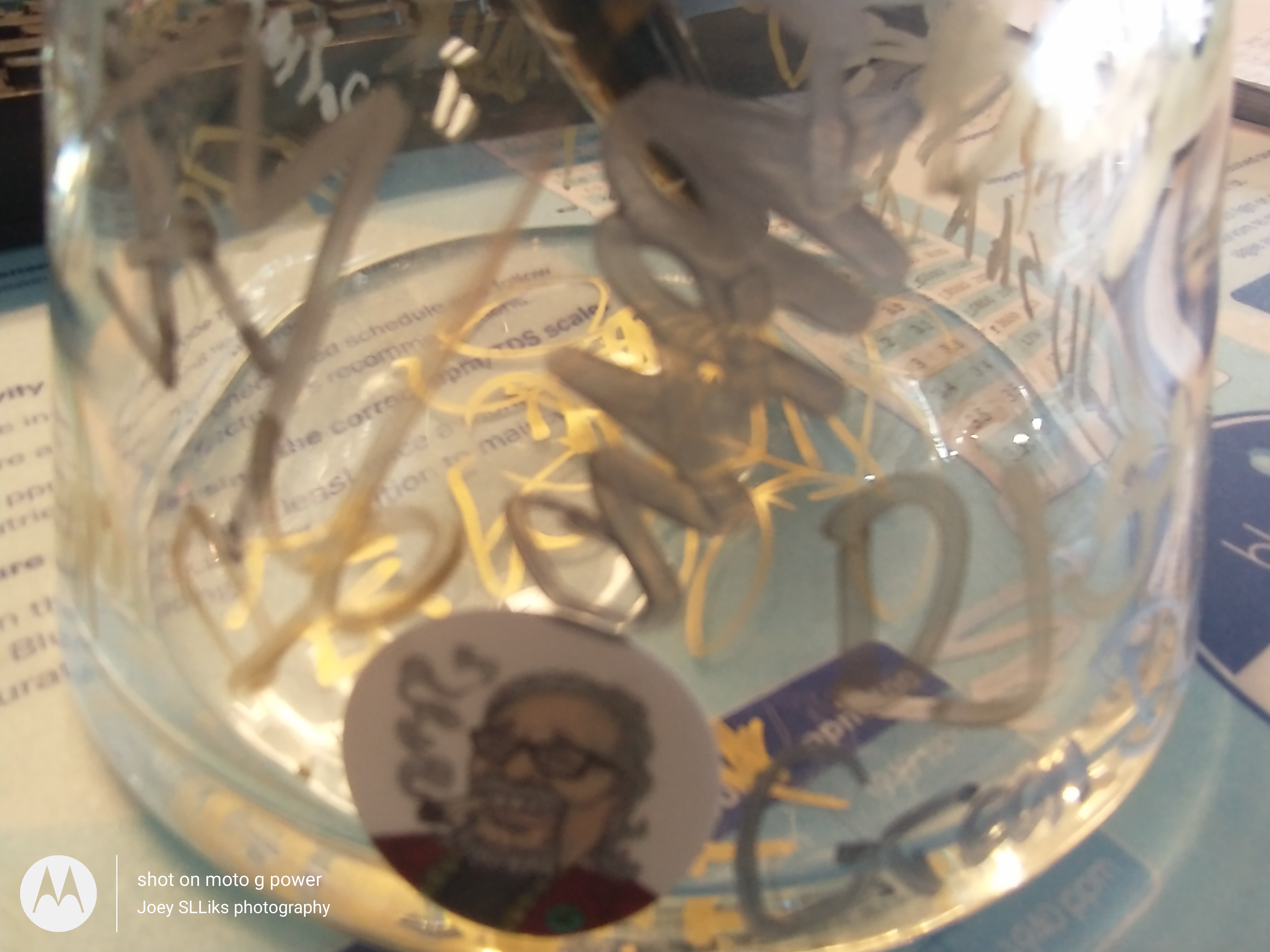 After some deliberation, it was decided that Red should be placed proudly at the base. The Kief Kollector guy even gave the placement his blessing.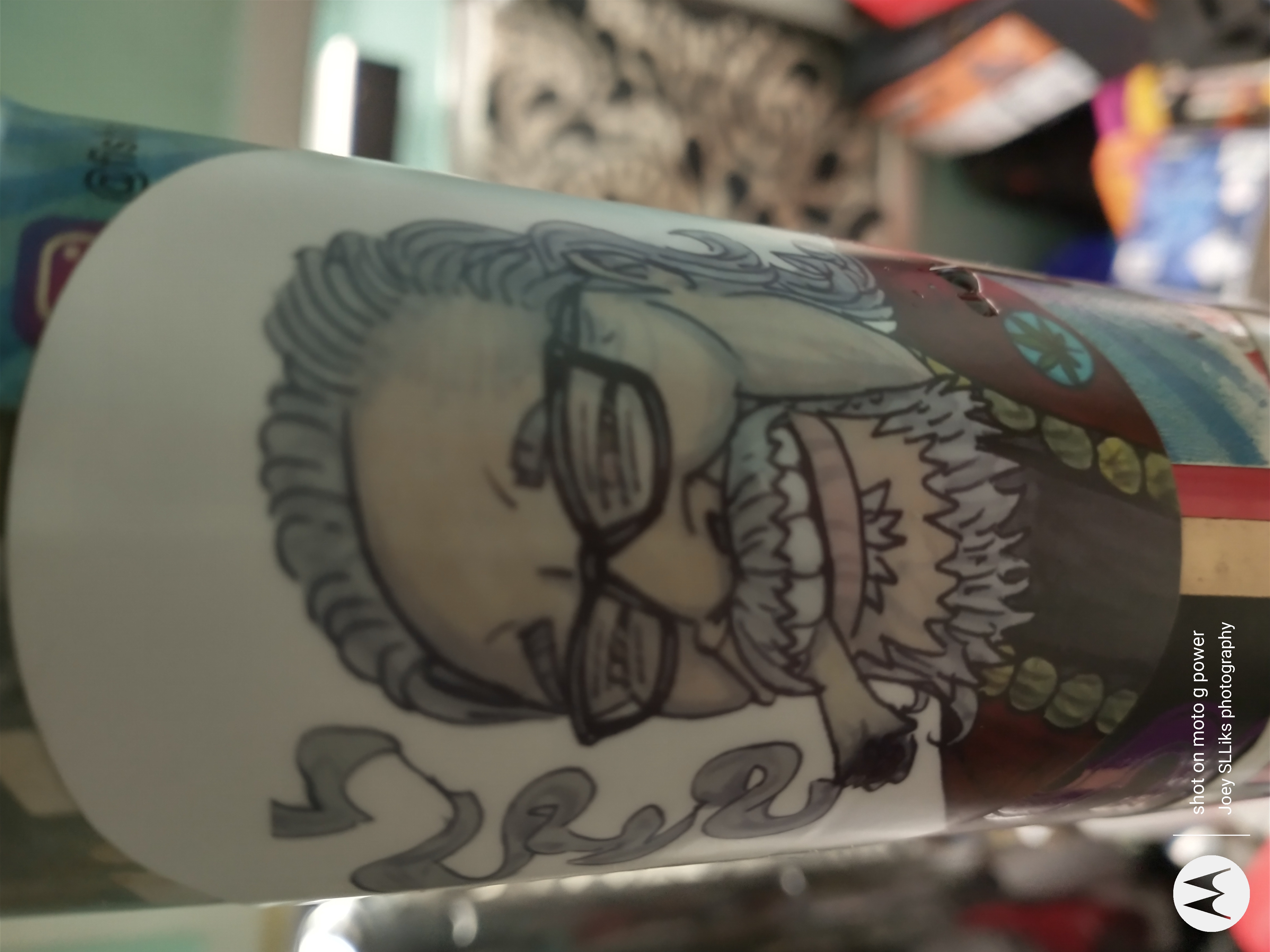 If you didn't know , Red was a great dude and sadly he had been bravely battling Cancer until a few weeks before the event. 🙁
Red was a hero to many local folks and his absence certainly casts a shadow on this year's festivities.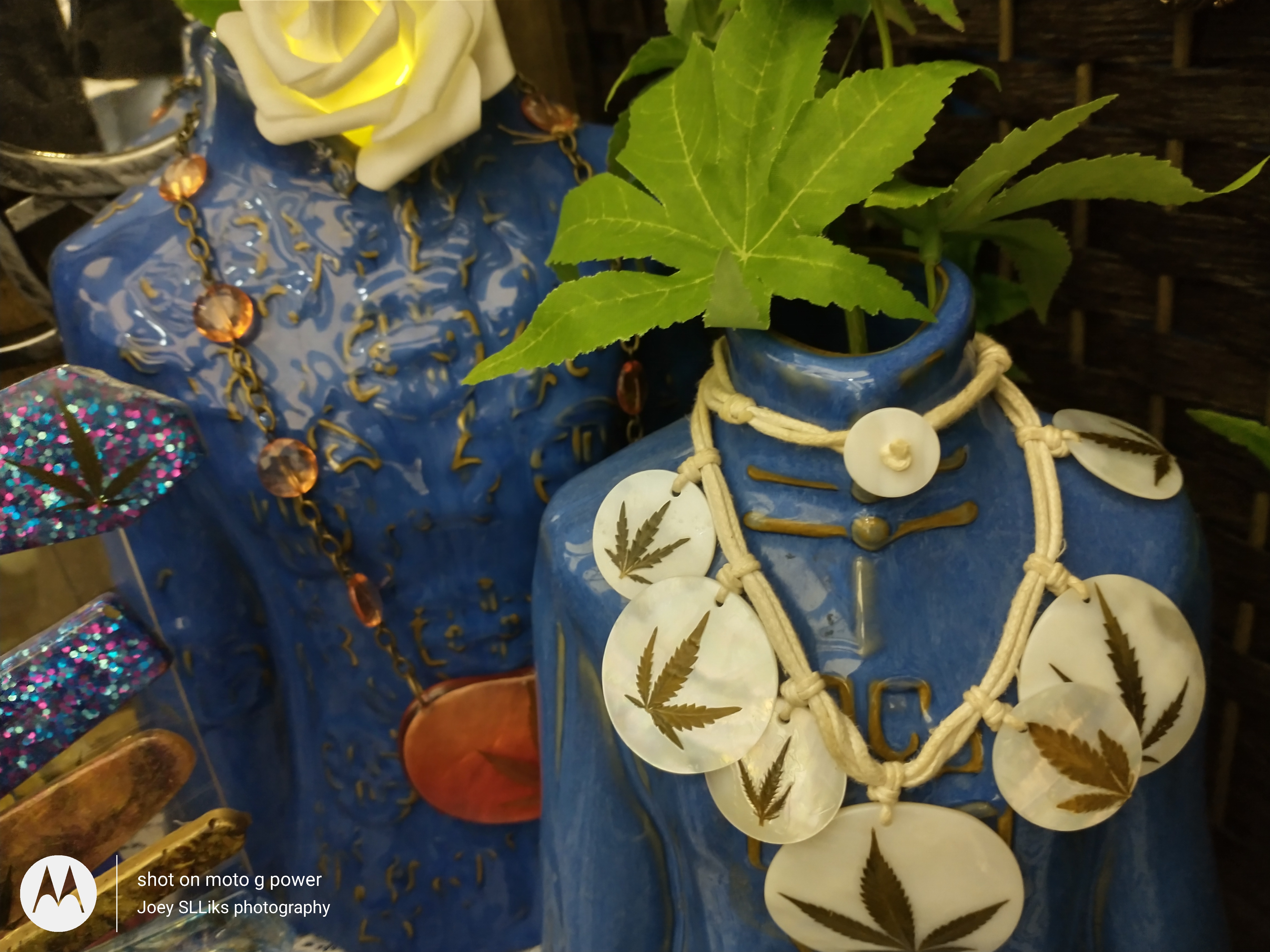 BigUp! to my friends at Serendipitous Highs at booth 419 for looking out, and having me at The harvest cup '21 as a guest.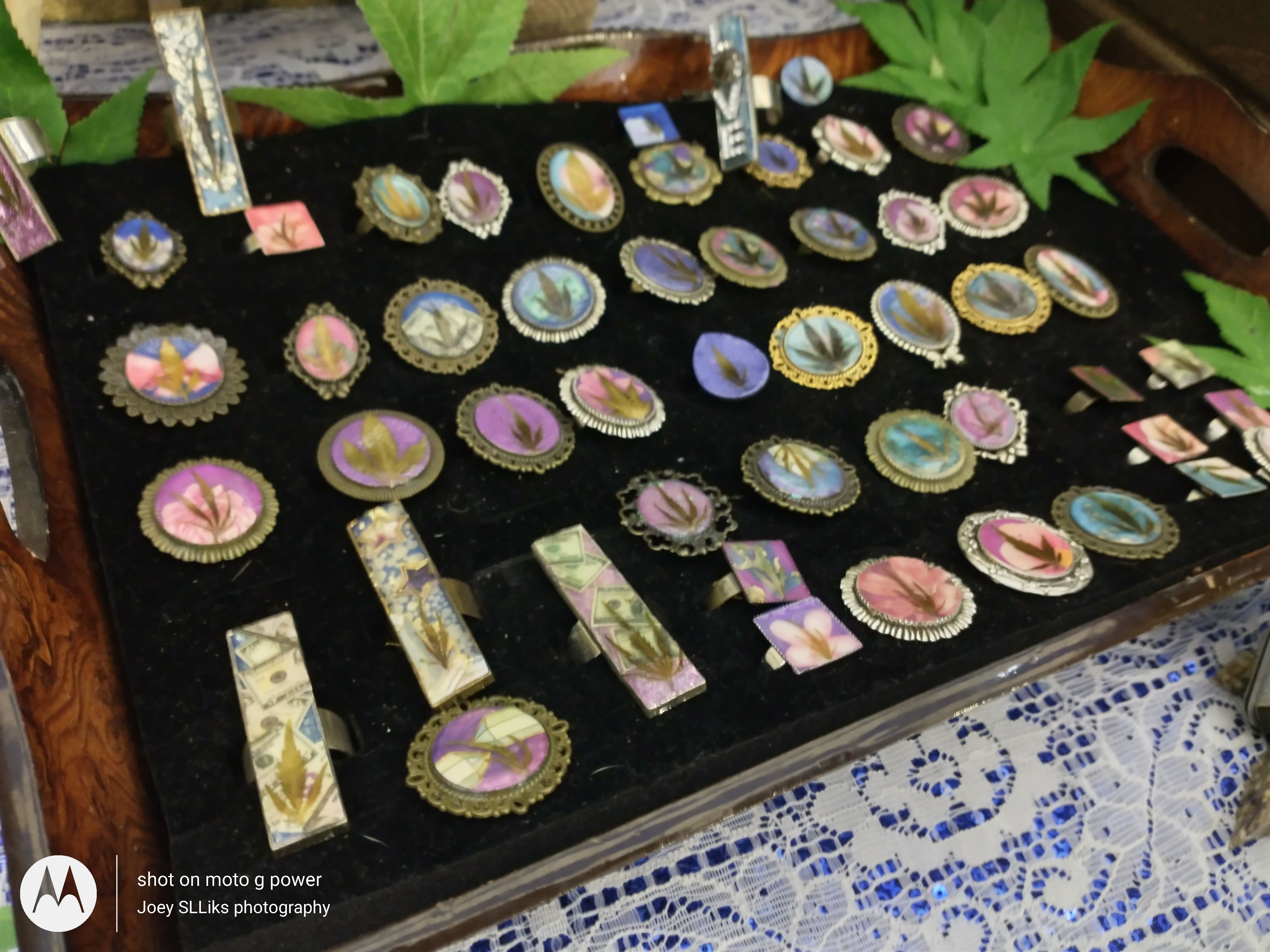 Serendipitous Highs makes amazing cannabis infused crafts and are Super cool folks and are definitely fun to hang out with.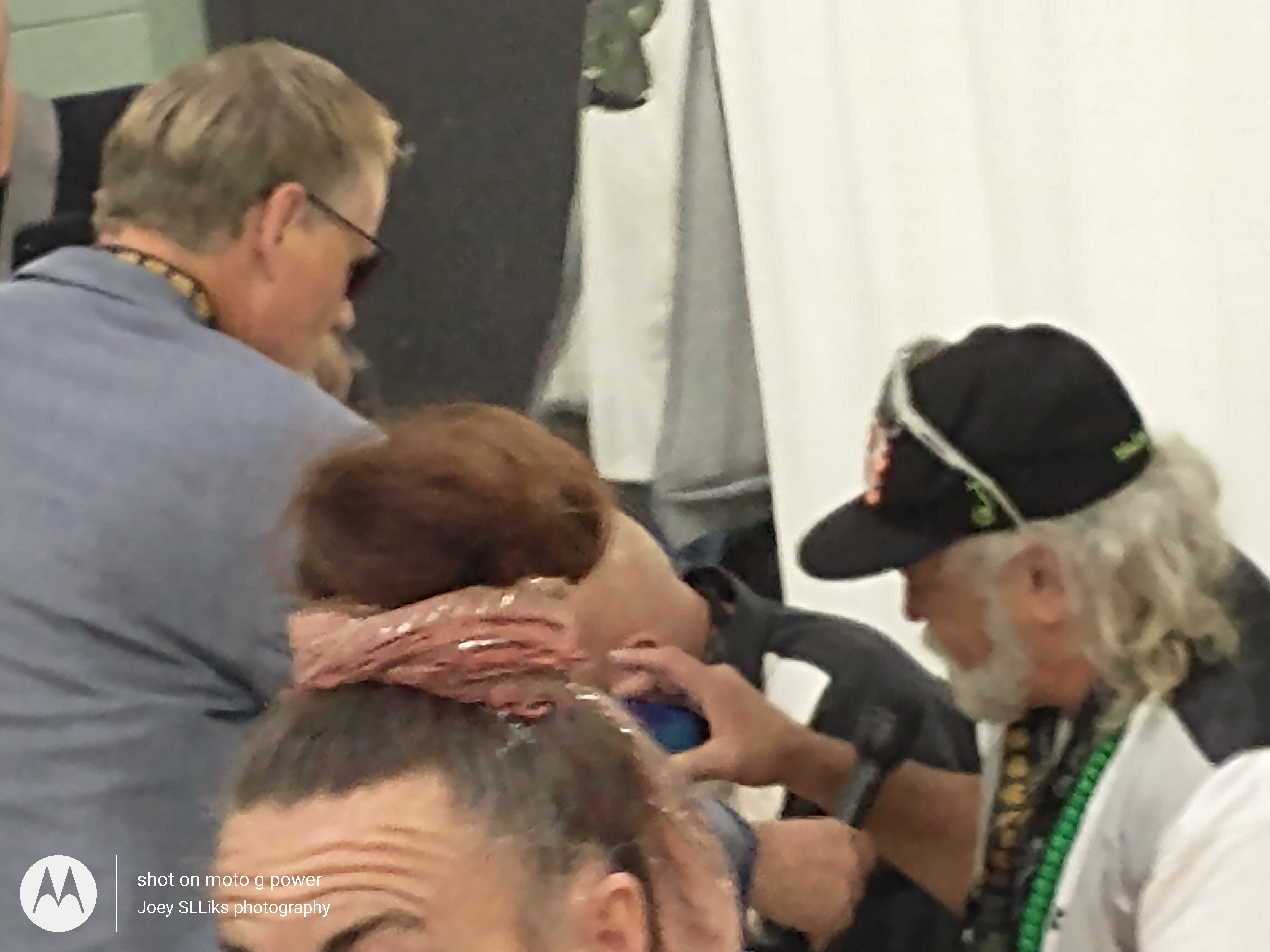 Uncle Stoner was having another one of his Squash Offs, an event I always like to see. He has a bunch of Weed OG's as judges and they give very honest feedback on cannabis concentrates made by local and amateur dab masters . Weak skinned Contestants beware, these guys are constructively critical.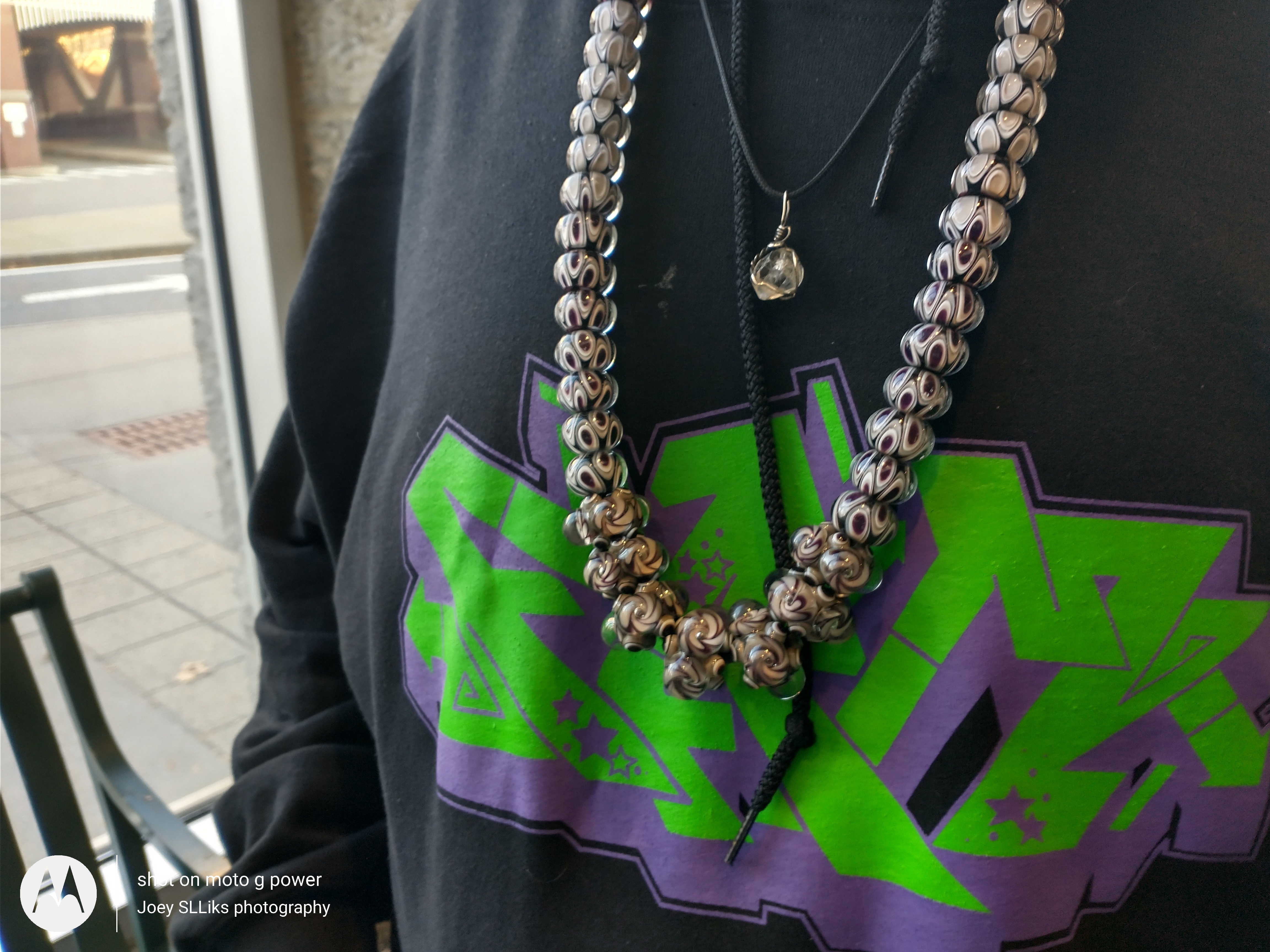 For many cannabis users, concentrates are still in the fringe of the culture. Vaporizers like the puffco or even Storz Bickel's iconic volcano is yet to become a household item and while concentrates are huge in places like Maine and Colorado,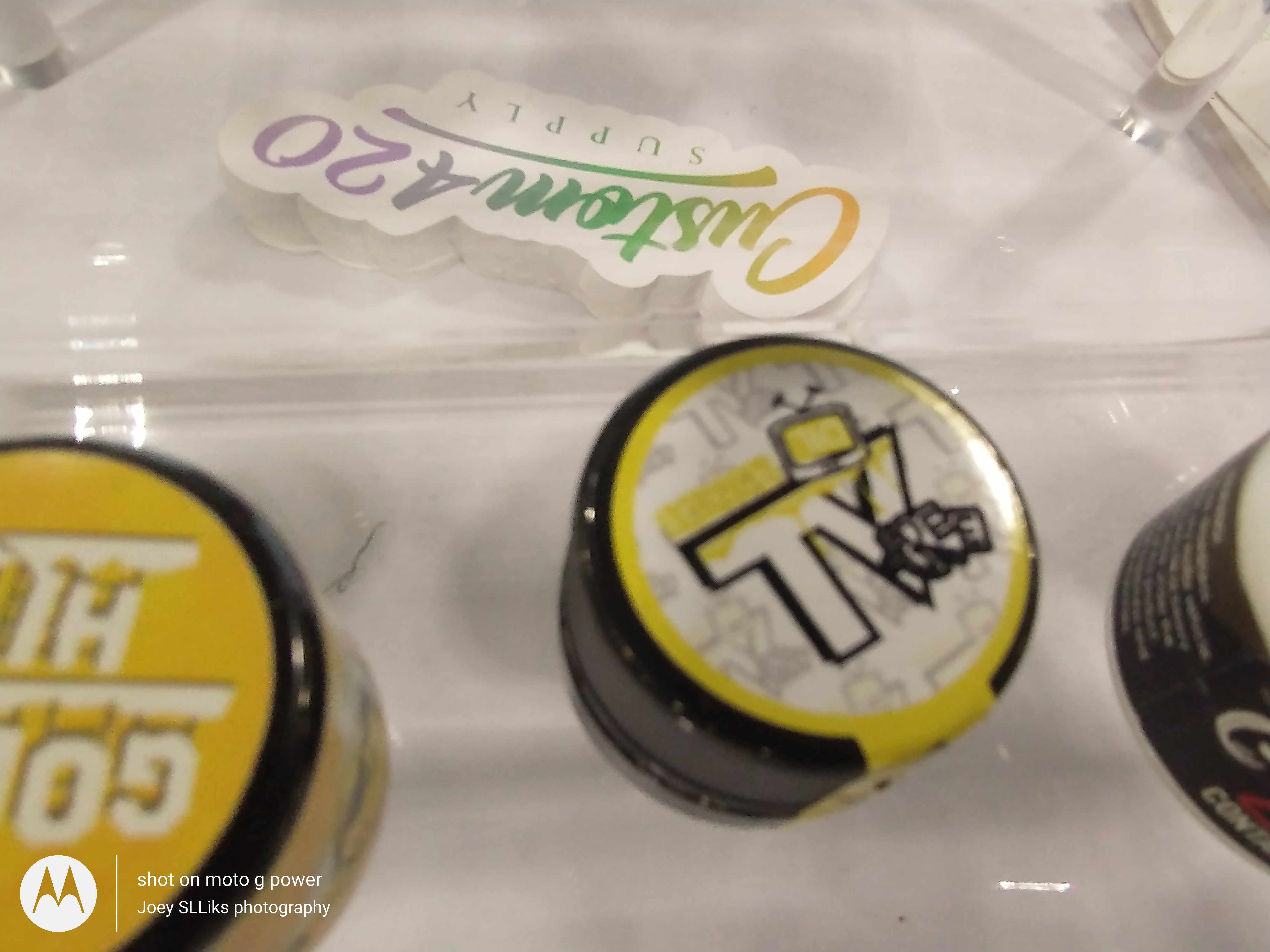 the word on the street is Bostonians are still rollin' tons of pinnahs and the use of Fronto leaves, or blunts is probably the most popular method, especially in the inner city.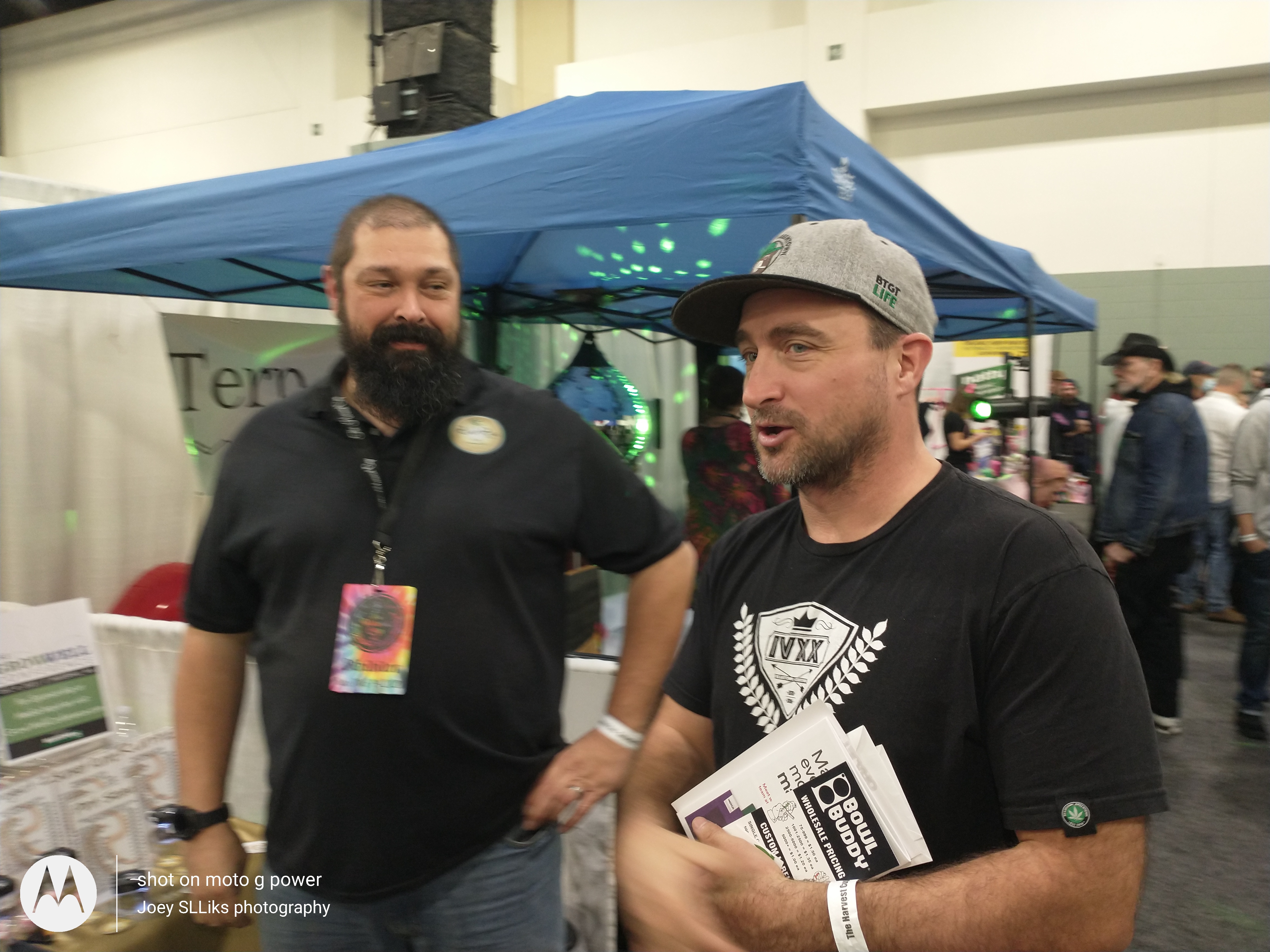 Ed DeSouza of River Run and Andrew Mutty, along with a bunch of the BeanTown Greentown crew, were of course in attendance. Naturally both agreed to sign the bong-y medallion hanging from my neck.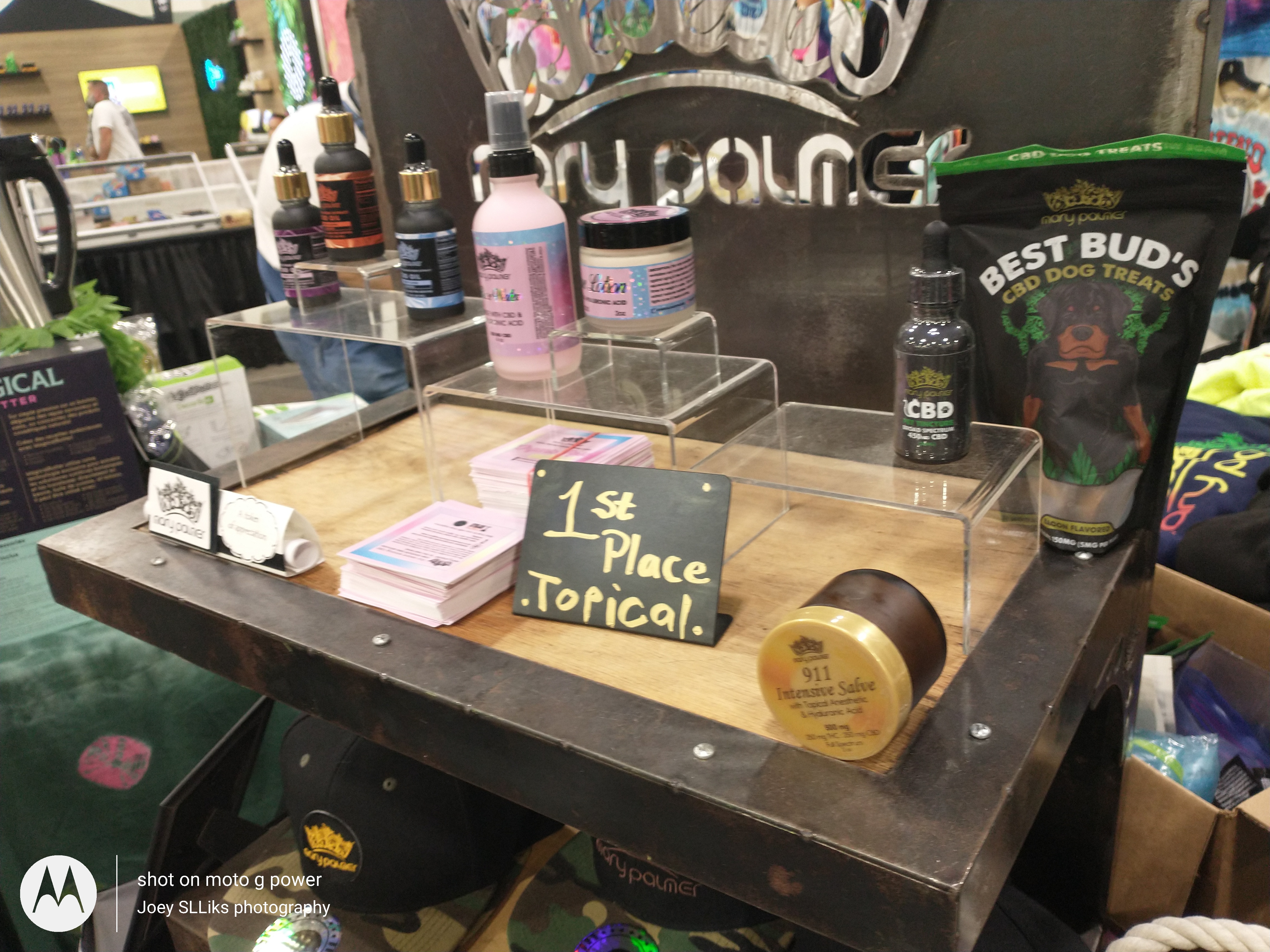 Massachusetts equity participant, The Who is Mary Palmer, a veteran and woman owned business, consistently wins at these events. Golden Remedy Edibles is also here and is another well known local New England brand.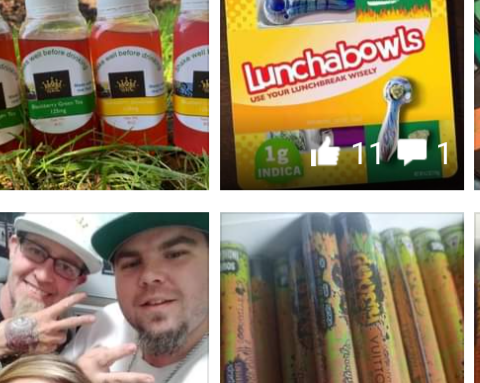 At the Masscann table, I remembered to renew my membership and got Lorna and Babyboi to sign the waterpipe. Lorna' s penmanship is on some "honubba", btw.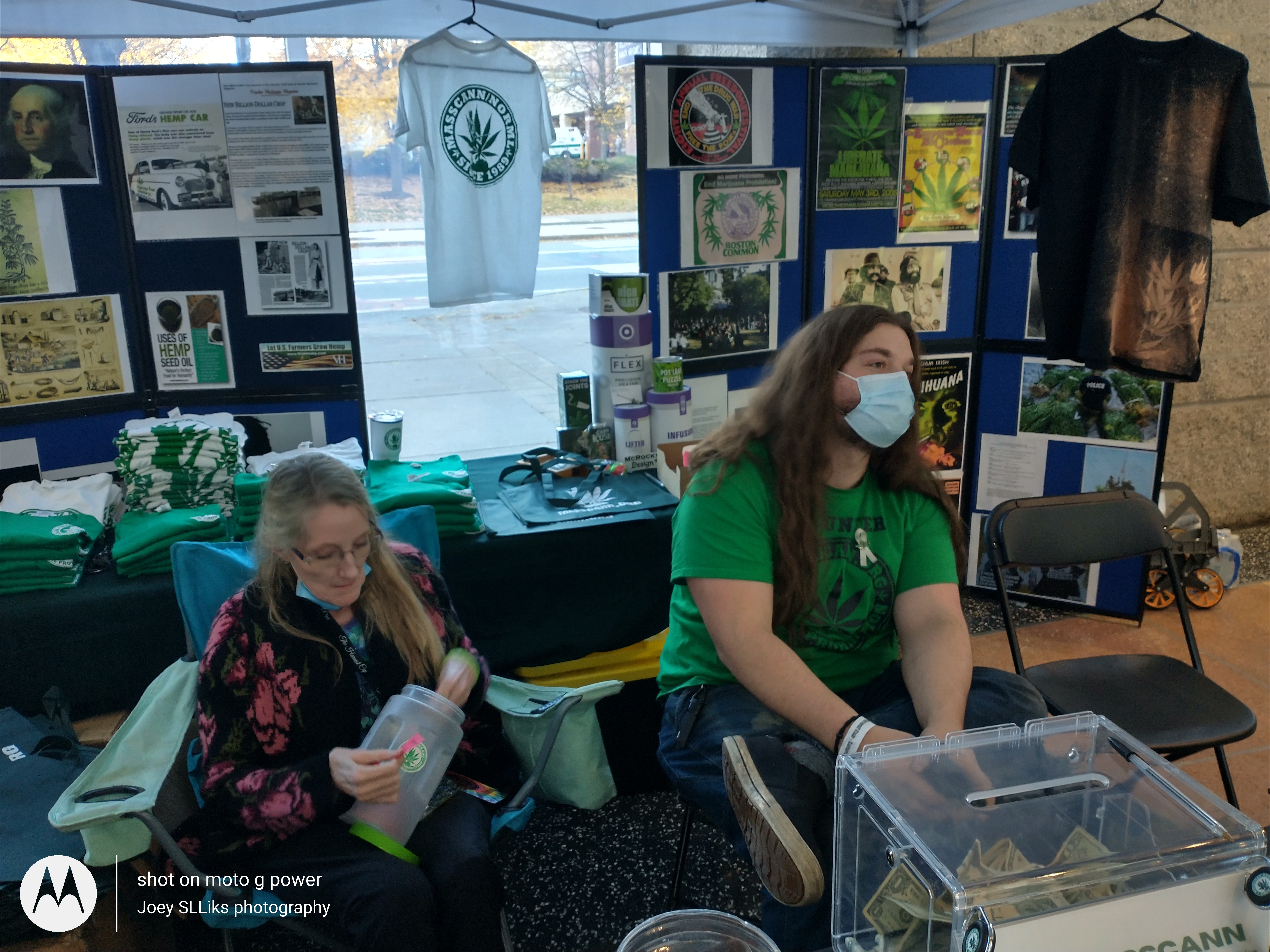 Doctor Marion McNabb, who was speaking on the use of medicinal and medical cannabis here in the Bay State, was also kind enough to hook up my glassy keepsake, McNabb is busy doing amazing cannabis research in association with her group, The Center for Cannabis Excellence and UMass Dartmouth.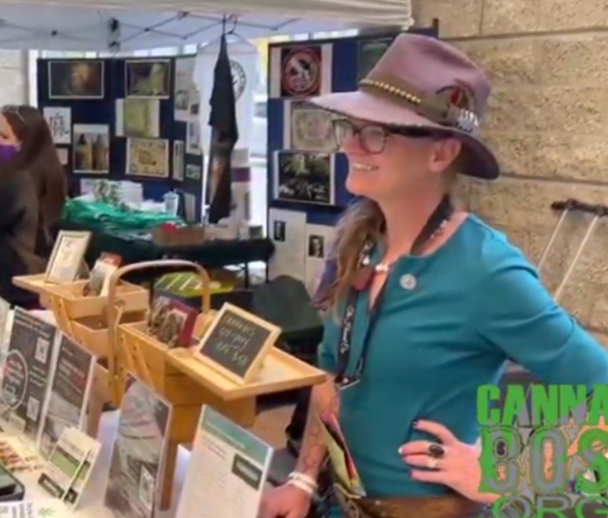 I caught that "Godfather of the hybrid", Rick Naya for a signature as well. Such a good dude and I rather enjoy the Rick Naya show. Tons of the people here have actually been on Rick's Thursday Podcast.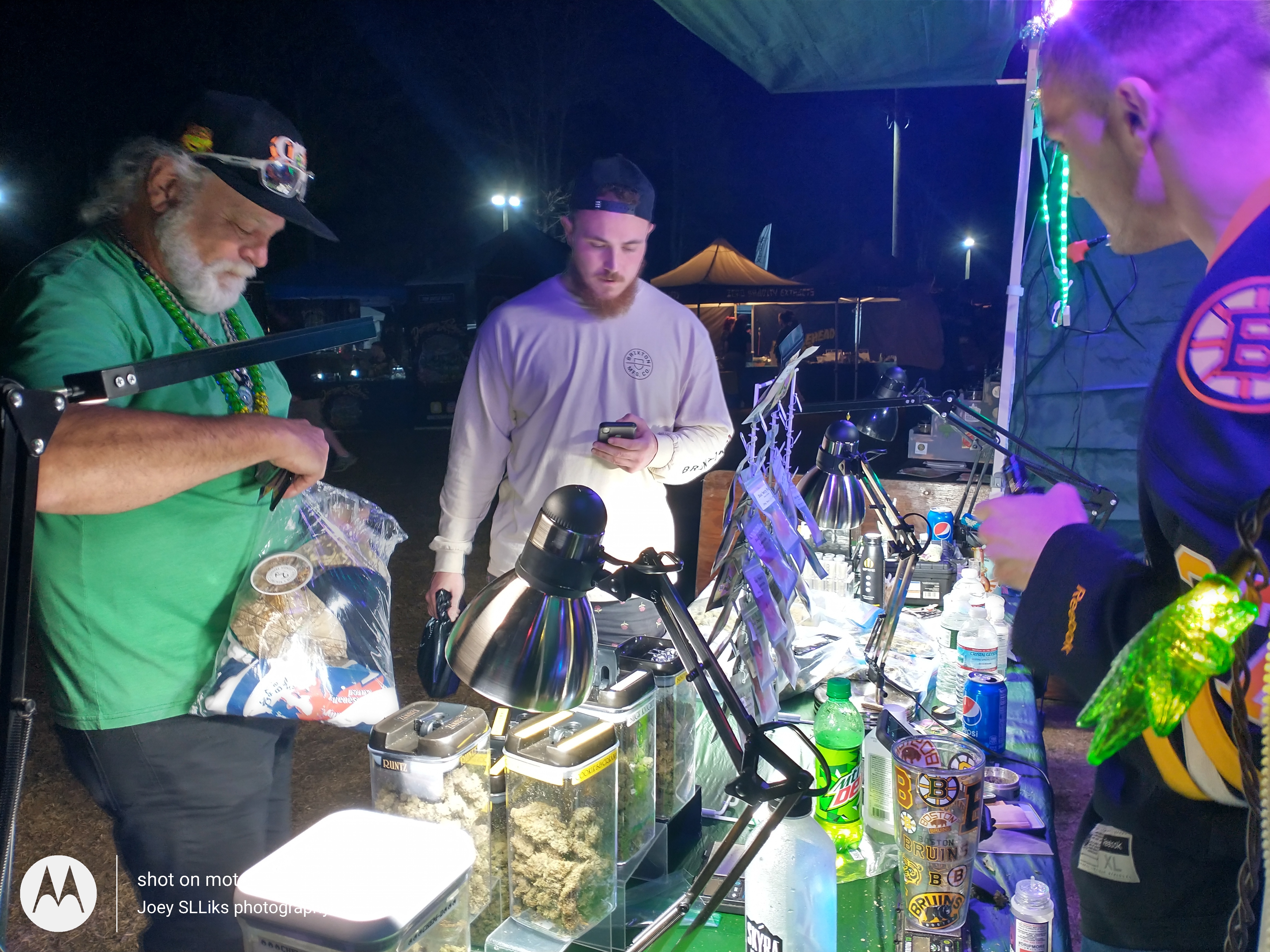 I was pretty proud of myself for getting all these folks to sign my piece. As I was making my way back to the lobby, an announcement was made that WU Tang's Cappadonna and Inspectah Deck were in the house and doing autographs. Trust me when I tell you that I was in good company taking advantage of an opportunity to meet some members of the iconic hip hop crew.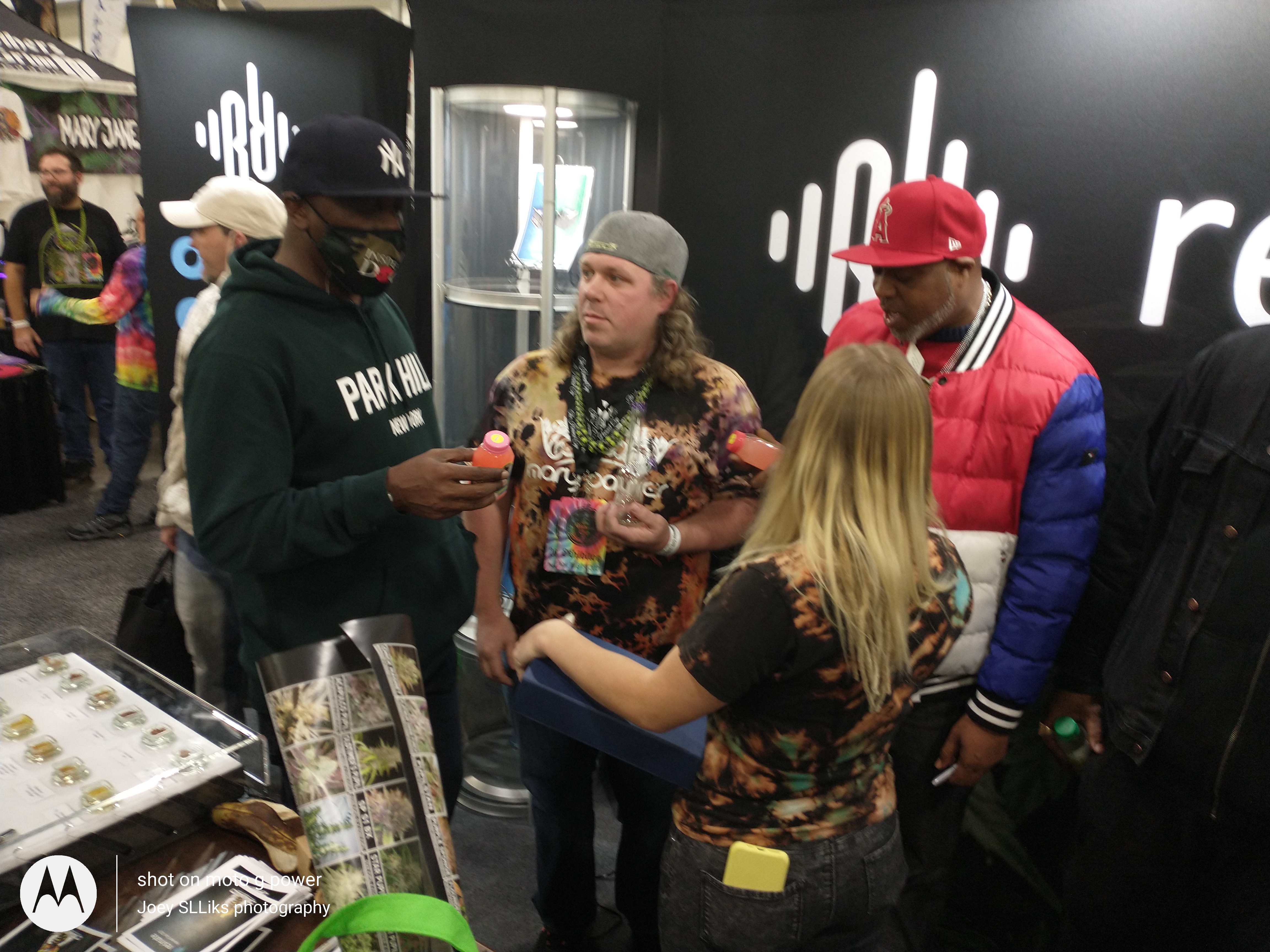 By the end of the event I had
a. no more space on the bong for signatures
b. come to the realization that this was a bong that I will never smoke from. Which means that it is going to be stored away with my increasingly growing pile of special things. forever
…feck
Instead I thought maybe I'll donate this bad Larry to a good cause. But that's a ho nubba story.
KIND THANKS TO
THE HARVEST CUP
https://theharvestcup.org/
THE HOMIE GERALD
BEANTOWN GREENTOWN
https://beantowngreentown.com/
RIVER RUN
http://www.riverrungardens.com/
MASSCANN
https://masscann.org/
MCR LABS
https://mcrlabs.com/
EXCELSIOR EXTRACTS
https://www.instagram.com/excelsiorextracts/?hl=en
GROW BUD YOURSELF!
https://growbudyourself.com/
HOLE IN THE WALL CULTIVATION
https://www.facebook.com/holeinthewallcare/
SUNGROWNKIT.COM
http://SUNGROWNKIT.COM
MOHAWK GLASS
https://www.facebook.com/mohawkglass1/
BLINGIN' BEADS
http://www.blinginbeads.com/
DR MARION McNABB
https://www.cannacenterofexcellence.org/about.html
CHUNKY'S GLASS
https://www.facebook.com/chunkysglass/
CITY SLICKERS GENETICS
https://www.instagram.com/cityslicker.genetics/?hl=en
GOLDEN REMEDY EDIBLES
https://www.instagram.com/golden_remedy_medibles/?igshid=1t2jbu1z5gpdb&hl=en
MASS CANNABIS CHEFS
https://www.masscannabischefs.com/
GARDENS BY GILF
https://instagram.com/gardens_by_gilf?utm_medium=copy_link
BURIED TREASURES
https://www.buriedtreasuresboston.com/
MARY PALMER
https://www.whoismarypalmer.com/
I CREATED A MONSTAH
https://www.facebook.com/JASouzaIII/
UNCLE STONER
https://www.facebook.com/unclestoner/
RICK NAYA
https://m.facebook.com/The-Rick-Naya-Show-104606701224352/
CAPPADONNA
https://wutangclan.net/cappadonna/
INSPECTOR DECK
https://www.instagram.com/ins_tagrams/?hl=en
BIG NATE
https://m.facebook.com/Wu-Tang-Management-553029538118701/
VA DREW
SERENDIPITOUS HIGHS
https://www.instagram.com/serendipitistgetshigh/?hl=en
CANNABOS.ORG
http://CANNABOS.ORG